University of Toyama
The University of Toyama is located in the cities of Toyama and Takaoka in Toyama Prefecture, Japan. Surrounded by the spectacular Northern Japan Alps and the Sea of Japan, Toyama is blessed with a beautiful natural environment. The university was formed in October 2005 by combining 3 former national universities; Toyama University (founded in 1949), Toyama Medical and Pharmaceutical University (founded in 1975) and Takaoka National College (founded in 1983).
Currently, the University of Toyama is comprised of 8 faculties, 6 graduate schools, laboratories, a hospital, libraries and 18 institutes. There are 3 campuses, Gofuku, Sugitani and Takaoka, and Gofuku campus is home to our 5 facilities and most of our departments. Approximately 9,300 students (including 314 international students) are studying in the university.
Outline of the University of Toyama
Philosophy
The University of Toyama will uphold a global standard of education and research integrated with life sciences, natural sciences and arts, and social sciences open to the regional community and to the world. The university will nurture our students with a strong sense of mission and creativity based on the respect for human dignity. We will make contributions to the local, regional and international community, and will promote the harmonious development of science, art and culture, society and the natural environment.
Structure of the University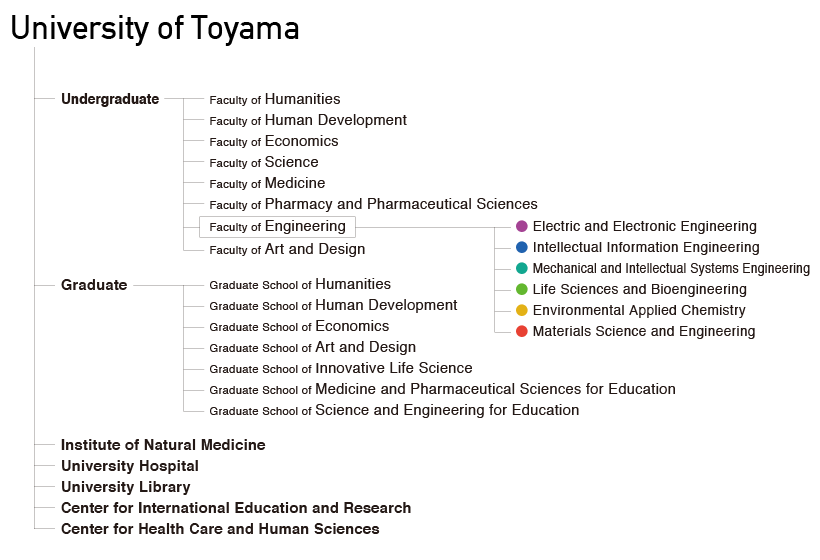 Facts and Figures